| | |
| --- | --- |
| | Custom TV Covers |
The highest quality protection from dust, moisture, & static for your Outdoor Flat Screen TV.
Cable Box Covers
Free Shipping for a limited time
For Cable Box Only orders, use form at bottom of this page.
To order Cable Box Covers WITH a TV Cover, use "buy now" page.
Cable/Satellite Box Cover Front

Shows front of cover with clear vinyl panel to allow use of remote control with cover in place. Also available with solid colored marine vinyl front, just let us know.

Price for cable box cover (up to 17" wide) $35.00 (over 17" wide: Call)

Rear View Cable/Satellite Box Cover

Shows partial rear vinyl panel; allows air circulation for rear ventilation openings and access for wires. (If your ventilation openings are not located on the back of unit; use extreme caution operating unit with cover in place. We can add custom openings if needed.)
The cable/satellite box cover is manufactured using the same high quality marine vinyl as the Custom TV Cover, however the front panel is clear vinyl so your cable box can receive remote control signal while the cover is in place. The back panel is shortened to allow air circulation and passage of the wires and cables. (Caution must be used when operating the cable/satellite box while the cover is in place. Make sure there is adequate ventilation to keep box cool. If ventilation openings are blocked by the cover, box may overheat. Safe cover use is the customer's responsibility.) A velcro strap goes under the unit to keep the cover secure.
You may easily purchase your custom cable/satellite box cover to match your Custom TV Cover using the easy order page or order the cable box separately using the order button below. You will need to include dimensions as shown in image below; Width (across front, side to side), Height (top to bottom) and Depth (front to back) to assure a custom fit. Be sure to include your color choice. Choose from Black, Brown, Tan, Beige, Eggshell, Gray, Navy or Burgundy (you can see the color selections on the home page.) Also, please include your phone number. We will contact you if we need further information (your contact information will never be shared or used for any other purpose).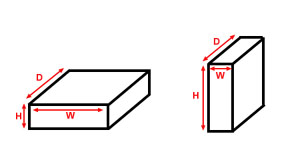 | | |
| --- | --- |
| Horizontal Orientation | Vertical Orientaion |
Cable Box Measurements
If ordering a Custom TV Cover, you may order the Cable Box Cover on the same order page. You will be asked to fill the the dimensions as shown above.
If you wish to order a Cable Box Cover without a Custom TV Cover, please use the order button below. Fill in the measurements in the correct sequence: First, Width (side to side); Second, Height (top to bottom); and Third, Depth (front to back). Be sure to include your color choice and your phone number. (The phone number will ONLY be used to contact you in case of questions; no information is ever shared with or sold to anyone.) Click our "Add To Cart" Button below to place order. You will be taken to PayPal's website for payment.
Less than 17" wide (If wider than 17" please or call for custom PayPal invoice.)
CABLE BOX ONLY order below:
Copyright 2001-2022 All rights reserved.