| | |
| --- | --- |
| | Custom TV Covers |
The highest quality protection from dust, moisture, & static for your Outdoor Flat Screen TV.
Prices include:
FREE Shipping on Cable/Satellite Box Covers; for a limited time.
Ultra-fast turn around time; 24 hours on plain covers.

Completely Custom Cover: Choose only the features you want and pay accordingly. If you don't see what you want in a Custom TV Cover, just ask. Custom is what we do.

Color coordinated velcro and thread. We use heavyweight outdoor, (Sunguard) UV resistant polyester thread that is matched to the color of your heavy duty outdoor marine vinyl TV cover. We also use heavy duty Velcro that is color matched to the color of your vinyl Custom TV Cover.

Velcro Back opening for Mount Access when needed (pedestal mount does not need opening) to allow your TV mount arm to pass through your Custom TV Cover. The opening is completely reinforced with inside facing and the color coordinated velcro closure below the opening secures the Custom TV Cover to your TV around the mount.
Prices are based on the actual width of your television from the left outer edge across to the right outer edge. Measure as shown in the diagram and use the chart below to determine price. "Size" equals measurement from outer edge of TV case to opposite outer edge.
All Custom TV Covers shipped via USPS Priority Mail for fast shipping and Saturday Delivery when needed.
For personal price quote just email TV size and desired options (design, velcro bottom closure, lining--which is only necessary on embroidered covers, remote control pocket, and/or remote control pouch) and we will calculate the exact price for you; or just call us at 858-537-7898.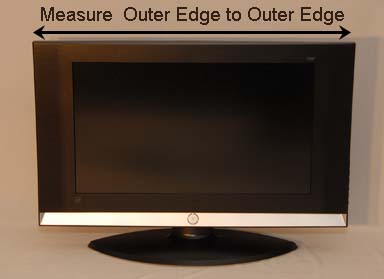 Size of TV (Measured as shown above) (Cover size will be larger to allow fit)

Manufacturer Size (diagonal size)
Solid Color
(Base price)


With Lining Add




With Bottom Velcro Closure Add
With Solid Marine Vinyl
Silhouette Design Add
Less than 24 "

Most up to 24"

+ $ 20


+ $ 10

+ $ 25

24" to Less Than 29 "

Most 26"-30"

$ 65


+ $ 25


+ $ 15

+ $ 30

29 " to Less Than 35"

Most 32"-36"

$ 75



+ $ 25

+ $ 15

+ $ 30

35" to Less Than 40"

Most 37"-42"

$ 95



+ $ 30


+ $ 20

+ $ 30

40" to Less Than 45"

Most 44"-47"

$ 115


+ $ 30


+ $ 20

+ $ 35

45" to Less Than 50"

Most 50"-52"

$ 145


+ $ 35


+ $ 20

+ $ 35

50" to Less Than 54"

Most 55"-58"

$ 165


+ $ 35

+ $ 25

+ $ 35

54" to Less Than 68 "

Most 60"-70"

$ 199



+ $ 40


+ $ 25

+ $ 35

68 " and Larger

email for quote

Embroidery

Please email us for price quote on custom embroidery (include image).

Prices range from $25.00 to $125.00 depending on design
Monogram pricing for up to 3 letters is $35.00.

Web site order form will not generate correct price to include custom embroidery. Please call 858-537-7898 or to place embroidery orders.
(Monograms and stock embroidery designs may be ordered on this web site using the standard order page.)

Invoices for custom embroidered covers must be manually generated.

Remote Control Pocket

$10.00

Remote Control Cover

$15.00 for standard ~ 4 " x 10 "

$20.00 for custom size; Please email dimensions width, length and depth after placing order.

Cable Box Cover

$35.00; Please include height, width, and depth dimensions with order. See details on the Cable Box Cover page. (Free shipping for limited time)
Options Available to customize your cover (extra charges apply):

Design silhouette in your choice of color; topstiched onto the front of the cover with color coordinated thread. Design size is scaled to cover size.

Embroidered design: Custom embroidery available; done on-site.

Bottom velcro closure. Velcro flap added to close the bottom of the Custom TV Cover for more complete coverage and extra protection against wind and/or dust.

Lining: Added to front inside of cover for extra softness against screen. Highly recommended for embroidered covers as is adds additional support for the embroidery and covers embroidery inside cover for a smooth inside surface. (Lining is not necessary on plain covers as the inside of vinyl without lining is a non-scratch knit fabric however the lining does add a bit of thickness if you prefer a stiffer, thicker cover.)

Remote Control Pocket stitched on the rear of cover to store your remote control. Has top flap that goes over top of pocket to prevent entry of moisture and/or dust.

Remote Control Cover is a separate pouch for the remote control. The standard size Remote Control Cover is approximately 10 inches tall by 4 inches wide with velcro flap closure. The remote control cover will fit inside the optional pocket on the back of your TV cover.

Please to email for additional information.
Please check back frequently for updates to our web site.
Copyright 2001-2018 All rights reserved.